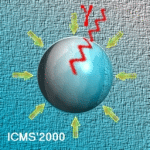 Last update:
June 9, 2000
Home
(update: Jun 5)

Conference Program
(update: Jun 5)

Proceedings
(update: Jun 6)

Poster Displays
(update: Jun 7)

General Information
(update: Apr 28)

Message Board
(update: Jun 7)

Social Program
(update: Jun 9)

Travel Information
(update: Jun 6)

Contributions
(update: Feb 17)
Papers
Posters
Instructions for Authors

---
ICMS'2000
The International Conference on Multiphase Systems, ICMS'2000
Ufa, RUSSIA, June 15-17, 2000

---
Contributions for Papers
Length of paper in final layout:

regular paper -- up to 6 (six) pages
invited paper -- up to 10 (ten) pages

Electronic submission of papers is strongly nesessary.
Please send e-mail with attached surce text and figures files and if possible a printable .ps or .eps file.
Preferred format of a paer source file is LaTeX document.
MS Word files are also accepted (in .rtf format) but not recommended.
Please submit figures in electronic form as well, preferrably as .eps files.
Some others graphic formats are also accepted (please ask const@anrb.ru).
Deadline for sending papers sources and figure files is April 20, 2000.
Contributions for Posters
Dimension of Poster is about 100 cm x 150 cm

Instructions for Authors
Samples
Following sample files are available:
Sample source file sample.tex (17k)
Figures, including to sample file:
All sample and style files into tar'ed and gzip'ed archive sample.tar.gz (95k)
All sample and style files into zip'ed archive sample.zip (97k)
Sample of paper in .ps format:
Sample of paper in .pdf format:
LaTeX Support
Following style files are available for LaTeX users:
Header of source file in LaTeX will be look similar:
LaTeX 2e:


\documentclass{article}
\usepackage{icms}


LaTeX 2.09:


\documentstyle[icms209]{article}

MS Word Support
Please see Layout
Layout
Format
Page size: a4 paper sheet (210 mm x 297 mm)
Size of text area: 175 mm x 265 mm (including header)
Text format: two sides, two columns
Intercolumn distance: 10 mm
Font type: Times New Roman
Text font size: 10pt
Line spacing: single
Text alignment: left & right justified

Note: LaTeX style has all this parameters
First page
Header: empty
Footer: empty
Top margin: 25mm
Conference title:
Text:


The International Conference on Multiphase Systems
Ufa, RUSSIA, June 15-17, 2000
ICMS'2000


Font: Times New Roman, italic, 10pt
Alignment: left justify
Paper title:
Vertical spaces: 10mm before, 5mm after
Font: Times New Roman, bold, 18pt
Alignment: centered
Authors:
Vertical spaces: 5mm before, 5mm after
Font: Times New Roman, slanted, 12pt or Arial, italic, 12pt
Alignment: centered
Affiliations:
Vertical spaces: 5mm before, 10mm after
Font: Times New Roman, 8pt
Alignment: centered
Abstract:
Vertical spaces: 10mm after
Font: Arial, 8pt
Alignment: left & right justified
Widtht: is equal to width of colunm
Title of abstract: First paragraph beginning by word "Abstract."
with font Arial, bold, 10pt
Note: in LaTeX source please use ordinal commands

\title{Title of paper}
\author{Author1\thanks{Affiliation1},
           Author2\thanks{Affiliation2}}
\maketitle

or

\title{Title of paper}
\author{Author1, Author2}
\address{Affiliations}
\maketitle

Please do not use command \date

Other page

Header:
Text:


The International Conference on Multiphase Systems, ICMS'2000
Ufa, RUSSIA, June 15-17, 2000


Font: Arial, 8pt
Alignment: left justify for odd side and right justify for even one
Header is underlined through whole page
Footer: empty
Top margin: 12mm
Bottom margin: 18mm
Left margin: 21mm for odd side and 13mm for even one

Note: LaTeX style has all this parameters

Text of paper

Font: Times New Roman, 10pt
Section title:
Vertical spaces: two lines before, one line after
Font: Times New Roman, bold, 12pt
Alignment: left & rigth justified
Numbering: Number of section without point after
Equations
Font: Times New Roman, italic, 10pt
Alignment: centerd
Numbering: at right side

Figures
Font: Times New Roman, 10pt
Alignment: left & right justified
Head: "Figure N:", where N is number of figure